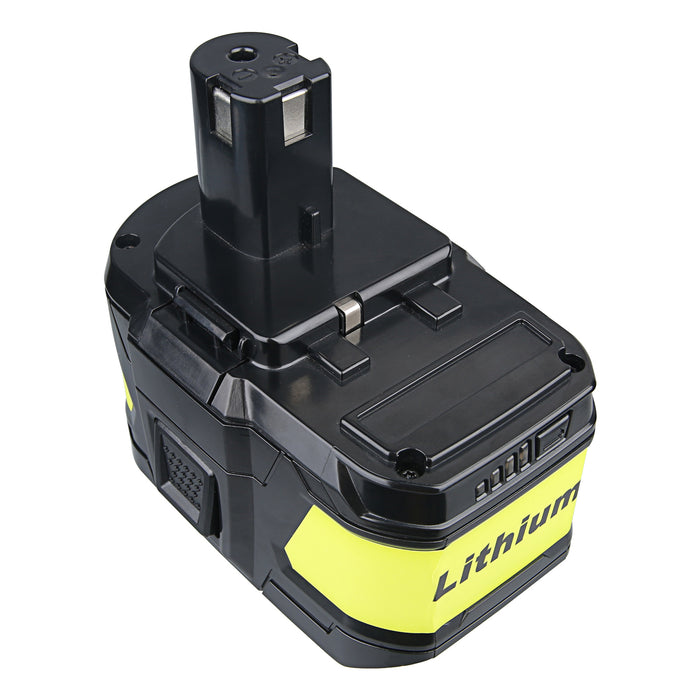 For Ryobi 18V 9.0Ah Battery Replacement | P108 batteries
Save

£10.00
Save

£10.00
Original price
£69.99
-
Original price
£69.99
VINIDA products are made with the highest quality materials.
All of VINIDA batteries are even made with the same cells as the OEM manufacturers
Product Details: 
Condition:Brand NEW | Voltage:18V | Capacity:9000mAh | Color: Black | Battery Type: Lithium-ion
Replacement Part : 
For RYOBI BPL-1815, BPL-1820G, BPL18151, BPL1820, P102, P103 P104, P105, P106, P107, P108
Compatible With: 
For RYOBI 18 Volt Cordless Drill Power Tool : BID-1801M, BID-180L, BID1821, BIW180, CAD-180L, CAG-180M, CAP-1801M CCC-1801M,CCC-180L, CCD-1801,CCG-1801M,CCG-180L,CCS-1801/DM, CCS-1801/LM,CCS-1801D,CCS-1801LM,CCW-180L, CDA-18021B, CDA1802, CDA18021B,CDA18022B, CDA1802M,CDC-181M, CDI-1802, CDI-1802M, CDI-1803, CDI-1803M, CID-1802M, CID-1803L, CID-1803M, CID-182L, CID-183L, CFA-180M, CFP-180FM, CFP-180S, CFP-180SM,CHD-1801M, CHI-1802M, CHP-1802M, CHV-180L,CHV-18WDM,CJS-180L, CJS-180LM, CJSP-1801QEOM, CJSP-180QEO, OBL-1801, OCS-1840, OGS-1820, OHT-1850, OLT-1830, OPS-1820, ORS-1801, OWD-1801M P200, P2000, P2002, P201, P203, P204, P206, P2060, P208B, P210, P2100, P2102, P2105, P211, P220, P221, P230, P234G, P236, P240, P2400, P241, P246, P250, P2500, P2600, P2603, P271, P300, P301, P310, P3200, P3300, P3310, P340, P400, P410, P420, P430, P500, P501, P506, P510, P514, P520, P521, P522, P530, P540, P570, P600, P610, P631K, P650, P700, P701G, P703, P704, P710, P711, P715, P716, P730, P731, P740, P741, P780, P813, P835
Please note: 
Not compatible with ryobi 18v radio, lamp eg. Ryobi P742 Ryobi P746 Need a ryobi 18v lithium charger, eg. Ryobi P117 Ryobi P118
Package Includes:
1X 9000mAh Battery
1X User Manual
About this item
【Better battery】Replacement for Ryobi 18Volt 9.0Ah High Capacity Lithium Battery makes your tool work longer.Lighter Weight than other 18 volt nicd batteries.

【Compatible with】100%Compatible with Ryobi p102, p103, p104, p105, p107, p108, p109 and Replacement for Ryobi 18v charger (P117 p118)

【Well-designed】Made by high-quality cells, offering long-lasting performance and durability Impact-resistant outer case. Shock-absorbing inner-liner are engineered to protect your battery from damage when working.

【Safe & reliable】NO Memory Effect. Charging at any time will have no effect on the battery, holds a charge for up to 500 days; Integrated microchip prevents overcharging& overload& lengthens battery life.

【We Promise】Worry-free for 12 months. Please contact us by your Order ID for any problems during charging and use. so please feel free to purchase.
Products with electrical plugs are designed for use in the US. Outlets and voltage differ internationally and this product may require an adapter or converter for use in your destination. Please check compatibility before purchasing.