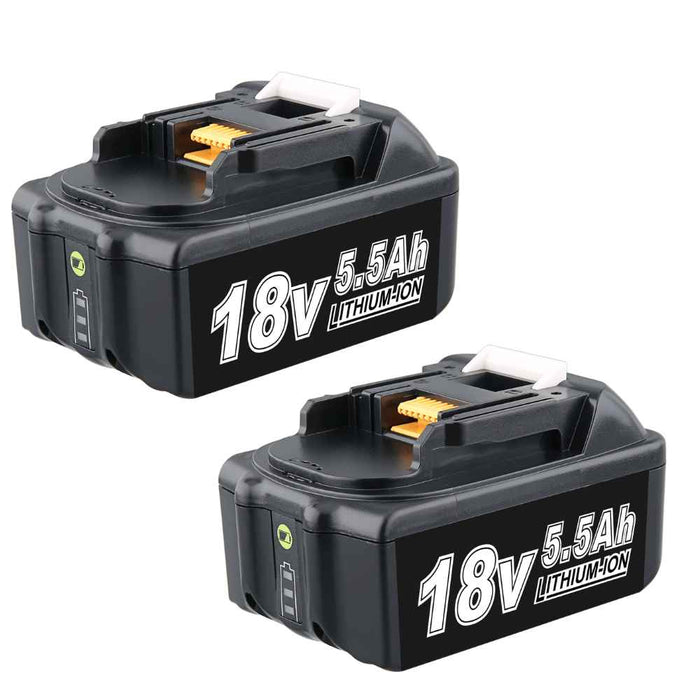 For Makita 18V Battery Replacement | BL1860B BL1850 18V 5.5Ah Li-ion Battery 2 Pack
Save

£0.00
Save

£-56.99
Original price
£56.99
-
Original price
£56.99
(use"Ctrl+F" to find your own PN & Model)
Replace OEM P/N:
For Makita BL1815, BL1830, BL1835, LXT400, 194204-5, 194205-3, 194230-4, 194309-1

Product Specifications:
100% new and high-quality cells
Brand: VANON
Chemistry: Lithium-ion (Li-Ion)
Voltage: 18V
Capacity :5500mAh/5.5Ah
Warranty: 1 Year Warranty + 30 Days Money Back
Brand New,100% compatibility with the original 18V drill

Package Includes:
2x 5.5AH 18V Battery for Makita BL1860B
1X User Manual

Compatible Makita 18v Tool Models:
For Makita:BJV180, BJV180Z,BPB180, BPB180Z,BSS501, BSS501Z,BSS610,BSS610SFE,BSS610X2,BSS610Z,BSS611X,BSS611Z,BTD140, BTD140SFE, BTD140Z,BTD144, BTD144RFE, BTD144Z,BTL061,BTL061Z,BTL063,BTL063Z,BTP140, BTP140Z,BTW251, BTW251Z,BTW253,BTW253Z,BTW450, BTW450Z,BUB182, BUB182Z,BVR350, BVR350Z,BVR450, BVR450Z,DF454DZ,HP454D,HP454DRFX, HP454DZ,HR202D, HR202DRFX, HR202DZK,JR120D, JR120DRF, JR120DZK,ML184(FlashLight), ML184,MR100, MR100W,PB108D, PB108DRFX, PB108DZ, TD144DRFX, TD144DZ,TD251DRFX, TD251DZ?

【Features】 : Via FCC, ROHS, CE Certified. No Memory Effect,not hot when charge. Tested by manufacturer to match OEM product.
【100% Compatibility】: REPLACEMENT BATTERY, NOT ORIGINAL. Fits current model tools and original charger.
【Higher Capacity】: Upgraded to higher capacity battery with higher quality cells for long-lasting performance. Higher capacity offering long-lasting performance and durability.
【Stable】: No Memory Effect, Can be charged or discharged as needed without loss of capacity . Top A grade NI-MH Battery Cells,Built-in protection against potential damage caused by overcharging, overheating and short-circuit protection.
【After Sale】:12 Months Limited maintenance period.24 hours service.

Note:
1.Using Battery Regularly: Battery life decreases with lack of use, so keep those tools in action!
2.Keep Battery Cool and Dry: Cordless tool batteries will last longer if stored in a dry, climate controlled dry area
3.Keep Battery Charged: Recharge cordless tool batteries as soon as you notice a decrease in power. Most batteries last longest if recharged when they reach 70% capacity.
4. Keep away from children.