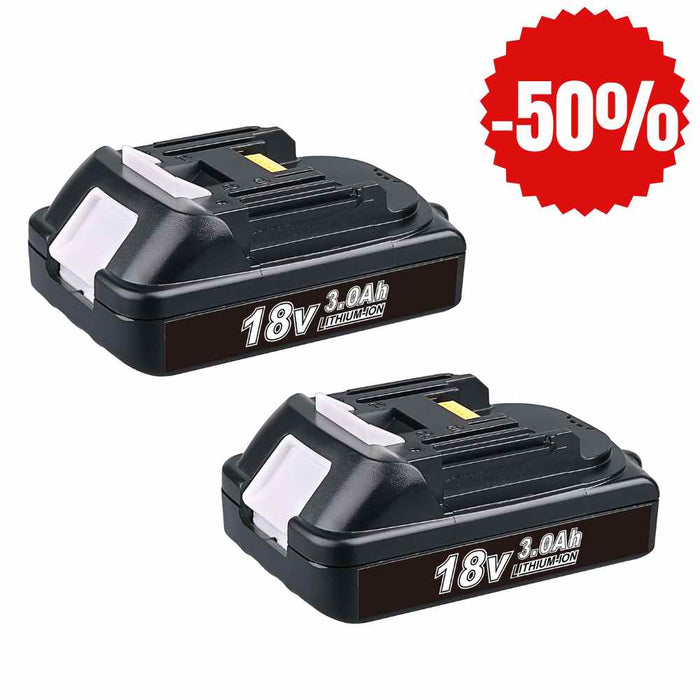 For Makita 18V Battery 3Ah Replacement | BL1830 Li-ion Batteries 2 Pack
Save

£22.50
Save

£22.50
Original price
£46.99
-
Original price
£46.99
!!!

Do Not Fit G-Series

!!!

Replace Original Makita Battery Code(use"

Ctrl+F

" to find your own PN & Model):
194205-3, 194309-1, BL1815, BL1830, BL1840, LXT400
Fit Original Makita Model:
BDF453SHE, BDF454Z, BHP452, BML184, BML185, BST221Z, BTDW251Z, ML185, TD140D, TW251D
BCS550, BCS550Z, BDA350, BDA350Z, BDF451, BDF451Z, BFR550L, BFR550Z, BFR750, BFR750L, BFR750Z, BFS450, BFS450RFE, BFS450Z, BGA452, BGA452Z, BHP451, BHP451SFE, BHP451Z, BHP453, BHP453SHE, BHP454, BHP454Z, BHR202, BHR202RFE, BHR202Z, BHR240, BHR240Z, BHR241, BHR241Z, BJR181, BJR181X, BJR181X1,BJR181Z, BJR182, BJR182X, BJR182Z, BJS130, BJS130Z, BJV180, BJV180Z, BPB180, BPB180Z, BSS501, BSS501Z, BSS610, BSS610SFE, BSS610X2, BSS610Z, BSS611X, BSS611Z, BTD140, BTD140SFE, BTD140Z, BTD141, BTD141Z, BTD144, BTD144RFE, BTD144Z, BTL061, BTL061Z, BTL063, BTL063Z, BTP140, BTP140Z, BTW251, BTW251Z, BTW253, BTW253Z, BTW450, BTW450Z, BUB182, BUB182Z, BVR350, BVR350Z, BVR450, BVR450Z, BVR850, BVR850Z, DF454D, DF454DRFX, DF454DZ, HP454D, HP454DRFX, HP454DZ, HR202D, HR202DRFX, HR202DZK, JR120D, JR120DRF, JR120DZK. 
Item specifics
1.Voltage:18V
2.Capacity:3000mAh
3.Battery Type: Li-ion
4.Color:Yellow &Black
5.Compatible Brand: For Makita
6.Package: Carton
7.Warranty: 1 Year Limited Warranty
8.Replace OEM P/N: For Makita BL1830
Features:
1.Intelligent program protection prevents from over charge
2.High quality replacement battery
3.Compatibility with the original
4.Lower Price than Original OEM Battery
5.No memory effect.
Note:
1. The battery must be FULLY charged before first use.
2. The battery is stored in a cool and dry place.
3. Do not Separation, extrusion, and impact.
4. Do not put battery into water and fire.