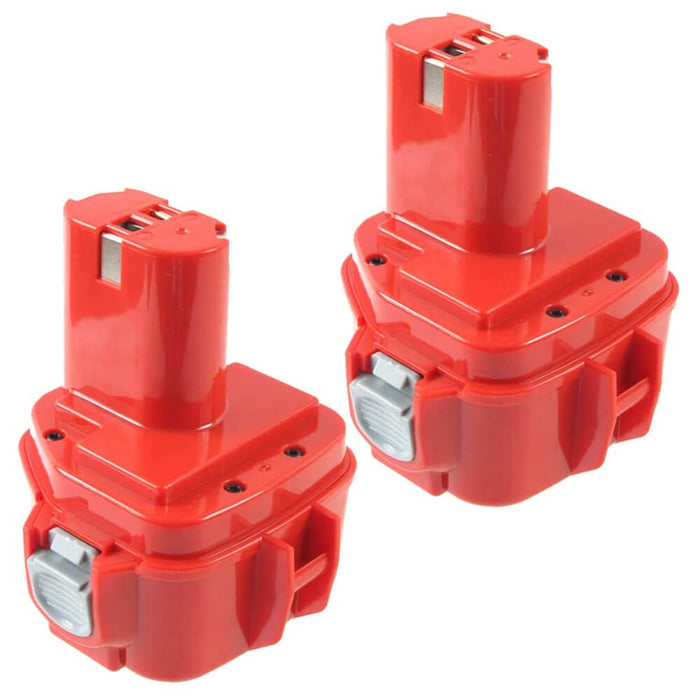 For Makita 12V Battery 4.8Ah Replacement | 1220 Ni-Mh Batteries 2 Pack
Save

£0.00
Save

£-39.99
Original price
£39.99
-
Original price
£39.99
Compatible Models: 
MAKITA 1050 Series: 1050D, 1050DA, 1050DRA, 1050DWA, 1050DWD
Makita 4000 Series: 
4013D, 4191D, 4191DWA, 4191DZ, 4331D, 4331DWAE,  4331DWD, 4331DWDE, 4331DZ
Makita 5093 Series: 5093D, 5093DWA, 5093DWD, 5093DZ
Makita 6000 Series: 
6213D, 6213DWAE, 6213DWBE, 6216DWDE, 6217D, 6217DWDE,
6217DWDLE, 6223D, 6223DE, 6223DW, 6223DWE, 6227D, 6227DW,
6227DWE, 6227DWBE, 6227DWLE, 6270DWAE, 6270DWALE, 6313D, 6313DA,
6313DWAE, 6313DWBE, 6314DWBE, 6316D, 6316DWA, 6316DWAE, 6316DWB,
6316DWBE, 6317D, 6317DWAE, 6317DWDE, 6317DWDRE, 6317DWFE, 6319D,
6319DWFE, 6327DWE, 6835D, 6835DA, 6835DWA, 6835DWAE, 6835DWB,
6835DWD, 6914D, 6914DWDE,  6916D,
Makita 8000 Series: 8270DWAE, 8270DWALE, 8413D

Replacement Part Number:1220, 1222, 192681-5, 632804-8

Item specifics
1.Voltage:12V 
2.Capacity: 4800mAh
3.Battery Type: Ni-Mh
4.Compatible Brand: For Makita
5.Package: Carton
6.Brand: VANON
7.Warranty: 1 Year Limited Warranty
8.Replace OEM P/N: For Makita 1220

Features:
1.Intelligent program protection prevents from over charge
2.High quality replacement battery
3.Compatibility with the original
4.Lower Price than Original OEM Battery
5.No memory effect.

Note:
1. The battery must be FULLY charged before first use.
2. The battery is stored in a cool and dry place.
3. Do not Separation, extrusion, and impact.
4. Do not put battery into water and fire.
5. Keep away from children.