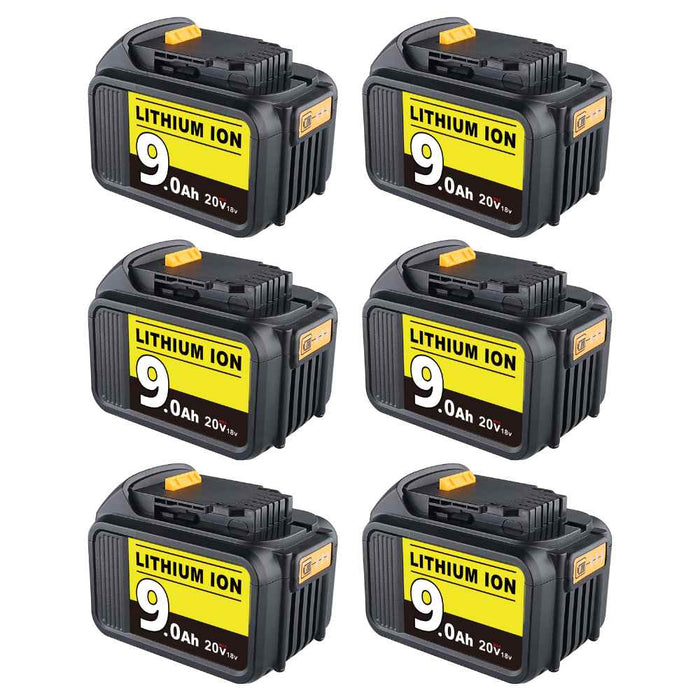 For Dewalt 20V Max 9.0 Ah Battery | DCB200 Li-ion Batteries 6PACK
Save

£0.00
Save

£-269.99
Original price
£269.99
-
Original price
£269.99
Compatible with:
Replacement for 20V Max DCB206 DCB207 DCB204 DCB203 DCB201 DCB200 DCB180 DCB181 DCB182 DCB183 DCB184 DCB205-2

Works With:

Replacement for DCD Series:

DCD740, DCD740B, DCD780, DCD780B, DCD780C2, DCD780L2

DCD785C2, DCD785L2, DCD980L2, DCD980M2, DCD985B, DCD985L2

DCD985XRn, DCD985L2, DCD785C2, DCD780C2, DCD780B, DCD740C1, DCD740B

Replacement for Dewalt DCF Series:

DCF880C1-JP, DCF883B, DCF883L2, DCF885, DCF885B, DCF885C2

DCF885L2, DCF895B, DCF895C2, DCF895L2, DCF895L2, DCF895C2

DCF895B, DCF885L2, DCF885C2, DCF885B, DCF883L2, DCF883B, DCF880C1-JP DCF883B

Replacement for DCG Series:

DCG412, DCG412B, DCG412L2

Replacement for DCS Series:

DCS331B, DCS331L1, DCS331L2, DCS331N, DCS380B, DCS380L1

DCS381, DCS391B, DCS391L1, DCS393, DCS393, DCS391L2, DCS391L1

DCS391B, DCS381, DCS380L2, DCH214L2

Product details:

Voltage:20V

Capacity:9.0Ah

Battery Type:Lithium-ion

Package include :

6 X 20V  9000mAh Battery Replacement for 20V Tools

6 X User Manual

Battery Maintenance

The battery needs to be stored it in a clean, dry, cool place away from heat and metal objects.

Batteries will self-discharge during storage; remember to recharge the batteries before use.

About this item
【With Great Power Comes Great Amenity】Capacity:9.0Ah | Lithium ion | Pack:6 Pack |Voltage:20 volt|Rechargeable | High quality battery cells.The upgraded capacity of 9000mAh offers a long lasting performance and durability for maximum productivity and minimum downtime. This replacement bateria for 20v DCB200 battery can be charged by your original charger whenever needed without any loss of capacity.No memory effect.

【Spare is Care】 Handy people always get backups and get them at a reasonable price.VINIDA baterias work like a charm just as well as the original ones and they are much more affordable.Additionally upgraded design features led indicators which provide immediate feedback on state of charge at a glimpse for efficiency.You'll find yourself reaching for them any time maintaining the house.Make a way better deal~

【Compatibility】100% Compatible with 20V tools DCB203, DCB204, DCB205-2, DCB200-2, DCB200 DCB180, DCB204-2, DCD/DCF/DCG/DCS.

【Safety】Integrated microchip provides intelligent protection against potential damages caused by overcharge, overdischarge, overvoltage, overcurrent,short circuit for a longer battery life.This DCB200 Replacement snap on battery is CE and ROHS certified and tested by manufacturer to match OEM products.

【VINIDA Service】 All products have passed strict quality inspection.If batteries are damaged in transit or any quality problem occurs.Please feel free to contact us(click the "Ask a question" on our storefront or in "YOUR ORDER" options click the "contact seller").We promise 30 days money back and 1 year warranty guarantee.
Products with electrical plugs are designed for use in the US. Outlets and voltage differ internationally and this product may require an adapter or converter for use in your destination. Please check compatibility before purchasing.