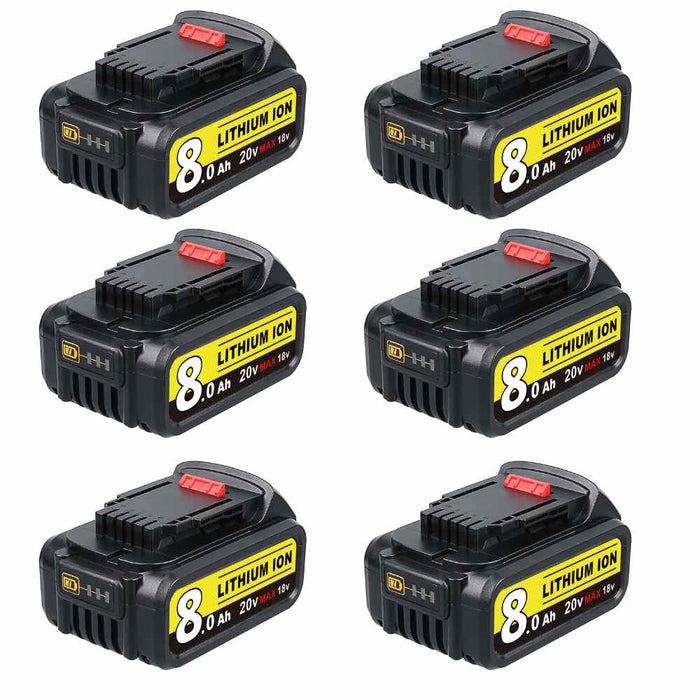 For Dewalt 20V Max 8.0 Ah Battery | DCB200 Li-ion Batteries 6PACK
Save

£0.00
Save

£-178.99
Original price
£0.00
-
Original price
£0.00
Products are CE certified, 100% compatible with original manufacturer equipments and chargers
No memory effect, Safety protection: Can be charged or discharged as needed without loss of capacity. Battery use high quality cells, safe with rapid-charge technology while providing overcharge and over discharge protection to increase the life of the battery
(use"Ctrl+F" to find your own PN & Model)
Replace Original Dewalt Battery Code:
DCB180, DCB181, DCB182, DCB201, DCB201-2, DCB200, DCB200-2, DCB204-2, DCB205-2
Compatible Models:
DCD Series:
DCD740, DCD740B, DCD740C1, DCD740N, DCD780, DCD780B, DCD780C2,DCD776
DCD780L2, DCD785C2, DCD785, DCD785M1, DCD785N, DCD785M2, DCD795D2
DCD985B, DCD985L2, DCD985XR, DCD980L2, DCD980M2
DCF Series:
DCF885C2, DCF885B, DCF883L2, DCF883B, DCF880C1-JP
DCF880, DCF880M2, DCF880C1-JP
DCF883B, DCF883L2, DCF883B
DCF885, DCF885B, DCF885C2, DCF885L2, DCF885L2, DCF885N
DCF886,
DCF895B, DCF895C2, DCF895L2 DCF895L2, DCF895 DCF895N
DCG Series:
DCG412, DCG412B, DCG412L2
DCS Series:
DCS331B, DCS331L1, DCS331L2, DCS331N, DCS380N
DCS380L1, DCS381, DCS391B, DCS391L1,
DCS393, DCS391L2, DCS391L1, DCS391N
DCS391B, DCS381, DCS380L2, DCH214L2, DCK250P2
Item specifics:
1.Voltage: 20V
2.Capacity: 8000mAh
3.Battery Type: Li-ion
4.Color: Black &Yellow
5.Warranty: 1 Year
6.
Brand: VANON
【Features】 : Via FCC, ROHS, CE Certified. No Memory Effect,not hot when charge. Tested by manufacturer to match OEM product.
【100% Compatibility】: REPLACEMENT BATTERY, NOT ORIGINAL. Fits current model tools and original charger.
【Higher Capacity】: Upgraded to higher capacity battery with higher quality cells for long-lasting performance. Higher capacity offering long-lasting performance and durability.
【Stable】: No Memory Effect, Can be charged or discharged as needed without loss of capacity . Top A grade NI-MH Battery Cells,Built-in protection against potential damage caused by overcharging, overheating and short-circuit protection.
【After Sale】:12 Months Limited maintenance period.24 hours service.
Note:
1.Using Battery Regularly: Battery life decreases with lack of use, so keep those tools in action!
2.Keep Battery Cool and Dry: Cordless tool batteries will last longer if stored in a dry, climate controlled dry area
3.Keep Battery Charged: Recharge cordless tool batteries as soon as you notice a decrease in power. Most batteries last longest if recharged when they reach 70% capacity.
4. Keep away from children.