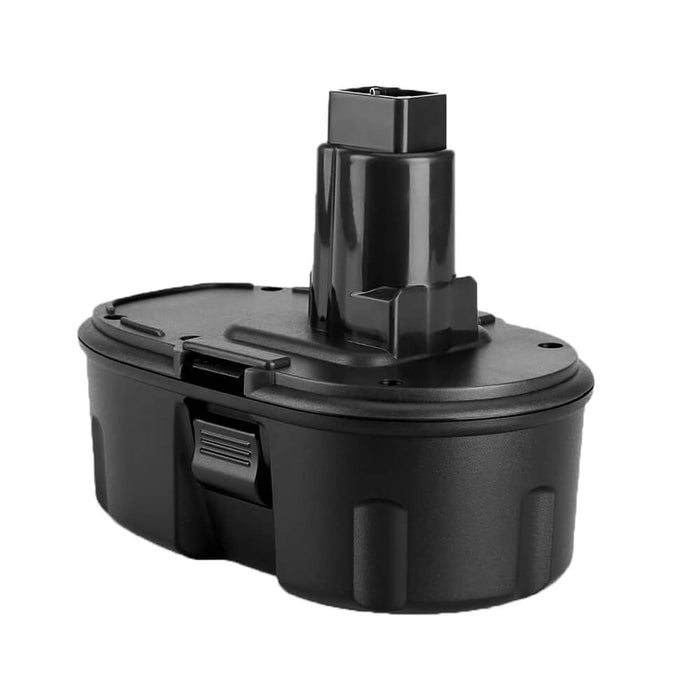 For Dewalt 18V Battery 5.5 Ah Replacement | DC9096 Battery
Save

£0.00
Save

£-25.99
Original price
£0.00
-
Original price
£0.00
Products are CE certified, tested by manufacturer to match OEM products. This battery has built-in protections to protect the battery and charger from overheating, overcharging and short-circuit.
(use"Ctrl+F" to find your own PN & Model)
Replace:
DEWALT DC9096 DE9039 DE9095 DE9096 DE9098 DW9096 DW9095 DW9098 DE9503
Compatible With:(Please Use"Ctrl+F" to find your own PN & Model)
DC020 DC212 DC212B DC212KA DC212KB DC212KZ DC212N DC213KB DC330 DC330K DC330KA DC330KB DC330N DC380KA DC380KB DC380N DC385 DC385B DC385K DC390 DC390B DC390K DC390KA DC390KB DC390N DC410 DC410KA DC410KB DC410N DC411B DC411KA DC411KL DC490B DC490KA DC495B DC495KA DC515B DC515K DC515N DC520KA DC527(Flash light) DC527(Flash lights) DC530KA DC545K DC546K DC550 DC550B DC550KA DC608B DC608K DC616K DC618 DC618K DC618KA DC628K DC668KA DC720KA DC721KA DC721KB DC725KA DC725KB DC729KA DC759 DC759KA DC759KB DC820B DC820KA DC820KB DC821KA DC823B DC823KA DC825B DC825KA DC825KB DC920KA DC925 DC925KA DC925KB DC925VA DC926KA DC926VA DC987 DC987KA DC987KB DC988 DC988KA DC988KB DC988VA DC989KA DC989VA DC998KB DCD690KL DCD760B DCD775B DCD920B2 DCD925 DCD925B2 DCD940KX DCD950B DCD950KX DCD950VX DCD959KX DCD959VX DCD970KL DCD980L2 DCD985L2 DCF059KL DCF826KL DCG411KL DW056 DW056K DW056K-2 DW056KS DW056N DW057K DW057K-2 DW057N DW059 DW059B DW059K-2 DW908 (Flash Light) DW919(Flash Light) DW932 DW933 DW933K DW934 DW934K-2 DW934K2 DW934K2H DW936 DW936K DW938 DW938K DW959K-2 DW960 DW960B DW960K DW960K-2 DW987 DW987KQ DW988 DW988KQ DW989 DW995 DW997 DW997K-2 DW999 DW999K DW999K-2 DW999K2 DW999K2H DW999KQ
Item specifics:
1.Voltage:18V
2.Capacity: 5500mAh
3.Battery Type: Ni-MH
4.Color: Black
5.Warranty: 1 Year
6.
Brand: VANON
Package included:
1 X 18V 5.5Ah Ni-MH Battery For Dewalt DC9096
1 X User Manual
【Features】 : Via FCC, ROHS, CE Certified. No Memory Effect,not hot when charge. Tested by manufacturer to match OEM product.
【100% Compatibility】: REPLACEMENT BATTERY, NOT ORIGINAL. Fits current model tools and original charger.
【Higher Capacity】: Upgraded to higher capacity battery with higher quality cells for long-lasting performance. Higher capacity offering long-lasting performance and durability.
【Stable】: No Memory Effect, Can be charged or discharged as needed without loss of capacity . Top A grade NI-MH Battery Cells,Built-in protection against potential damage caused by overcharging, overheating and short-circuit protection.
【After Sale】:12 Months Limited maintenance period.24 hours service.

Note:
1.Using Battery Regularly: Battery life decreases with lack of use, so keep those tools in action!
2.Keep Battery Cool and Dry: Cordless tool batteries will last longer if stored in a dry, climate controlled dry area
3.Keep Battery Charged: Recharge cordless tool batteries as soon as you notice a decrease in power. Most batteries last longest if recharged when they reach 70% capacity.
4. Keep away from children.