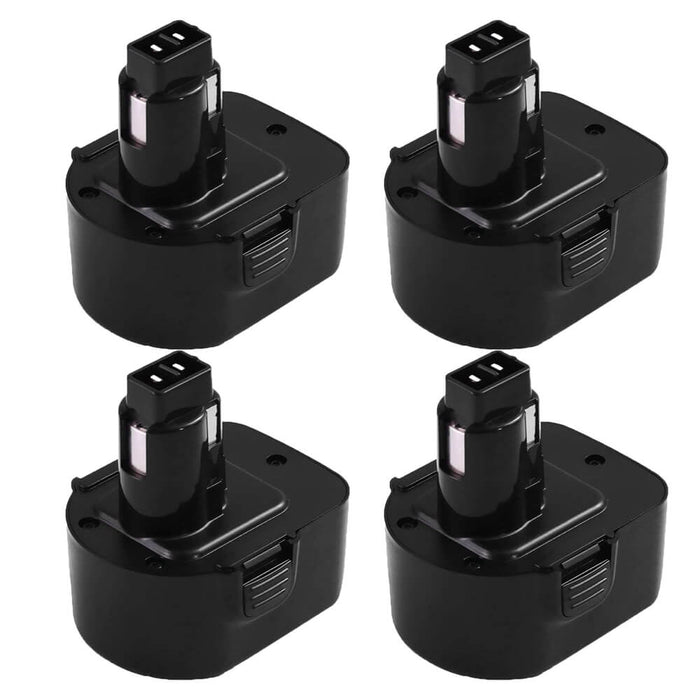 For Dewalt 12V Battery 4.8Ah Replacement | DC9071 Ni-MH Battery 4 Pack
Save

£0.00
Save

£-77.99
Original price
£0.00
-
Original price
£0.00
Quality Assurance:
High-quality battery cells integrated microchip protects the battery and extends lifetime, and without memory effect. Equipped with automatic overload cut-off, short-circuit and over-voltage protection.
Safe & Dependable:
Products are CE certified, tested by manufacturer to match and exceed specifications of OEM products.
(use"Ctrl+F" to find your own PN & Model)
Replacement PN:
DEWALT 152250-27, 397745-01, DC9071, DE9037, DE9071, DE9094, DE9074, DE9075, DW9071, DW9072

Compatible Models:( Ctrl + F for fast search ur laptop model)
DW051K,DW051K-2, DW052K, DW052K-2, DW052K2H, DW052Z, DW053K, DW053K-2, DW053K2H, DW904(Flash Light), DW907K-2, DW907K2H, DW907Z, DW912, DW915(Flash Light), DW917, (FLASH LIGHT), DW924K2AR, DW924K2B2, DW924K2B3, DW924K2BR, DW924K-B2, DW924K-B3, DW927K2, DW927K-2, DW927KV-2, DW930, DW930K, DW940K, DW940K-2, DW953, DW953K, DW953K-2, DW953KF-2, DW953KS-2, DW953KV-2, DW953RFK2, DW965, DW965K, DW965K-2, DW968K-2, DW970, DW971K-2, DW972, DW972B, DW972K, DW972K-2, DW972KQ-2, DW972KS-2, DW972RLK2, DW974K, DW974K-2, DW974KQ, DW975B, DW975K, DW976K, DW977B, DW977K, DW979, DW979K, DW979K-2, DW979K2-BR, DW980, DW980K-2, DW981 DW981KD-2, DW981KF-2, DW981KQ

Item specifics
1.Voltage:12V
2.Capacity: 4800mAh
3.Battery Type: Ni-MH
4.Color:Black
5.Brand: VANON
6.Package: carton
7.Warranty: 1 Year
8.Replace OEM P/N: For Dewalt DC9071

【Features】 : Via FCC, ROHS, CE Certified. No Memory Effect,not hot when charge. Tested by manufacturer to match OEM product.
【100% Compatibility】: REPLACEMENT BATTERY, NOT ORIGINAL. Fits current model tools and original charger.
【Higher Capacity】: Upgraded to higher capacity battery with higher quality cells for long-lasting performance. Higher capacity offering long-lasting performance and durability.
【Stable】: No Memory Effect, Can be charged or discharged as needed without loss of capacity . Top A grade NI-MH Battery Cells,Built-in protection against potential damage caused by overcharging, overheating and short-circuit protection.
【After Sale】:12 Months Limited maintenance period.24 hours service.

Note:
1.Using Battery Regularly: Battery life decreases with lack of use, so keep those tools in action!
2.Keep Battery Cool and Dry: Cordless tool batteries will last longer if stored in a dry, climate controlled dry area
3.Keep Battery Charged: Recharge cordless tool batteries as soon as you notice a decrease in power. Most batteries last longest if recharged when they reach 70% capacity.
4. Keep away from children.