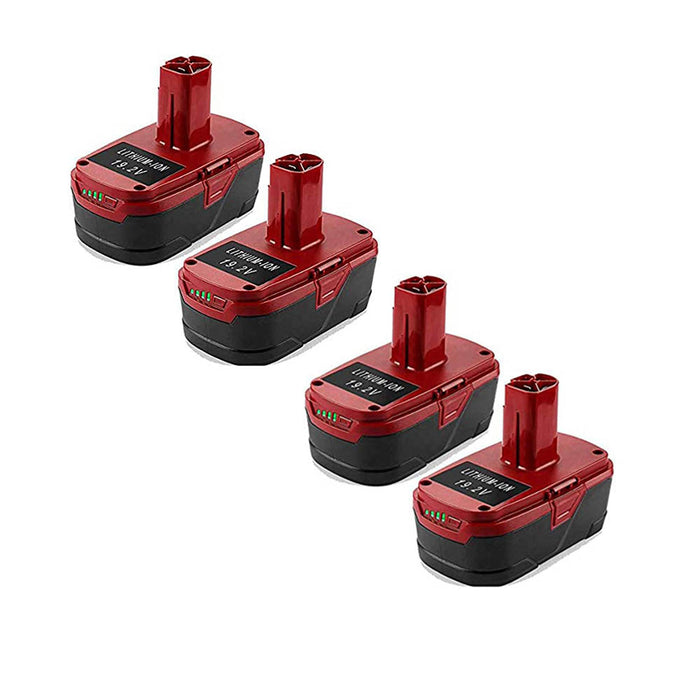 6000mAh High Capacity 19.2V Lithium Battery Replacement for 19.2 Volt Craftsman DieHard C3 Battery XCP 130279005 1323903 130211004 11045 315.115410 315.11485 Batteries 4 Pack
Sold out
Original price
£1,169.99
-
Original price
£1,169.99
Replace Part Number:

 For Craftsman 19.2V batteries: 11375, 11376, 130279005, 11375, 11376, 130279003, 1323903, 1323517, 315.114480, 315.114852, 315.101540, 15.11448, 315.115410 130239006, 130235021
Compatible Models:
Fit Craftsman C3 19.2 Volt Tools: 10126, 11541, 11543, 11570, 11576, 11578,11580, 11586,17338,17339, CRS1000
Fit charger Model: 
We recommend use the Craftsman 19.2-Volt 140152004 charger.
Specification: 
Battery Type: Lithium
Voltage: 19.2 Volt
Capacity: 6000mAh
Color: Red and Black
Quantity:4
Package Include:

4 x 6.0Ah Replace for Craftsman DieHard C3 19.2V Battery

1 x User Manual

Battery Maintance
1. Batteries should be discharged before each charging. And it's best to make the battery fully charged without interrupting.
2. If you store a battery when it's fully discharged, it could fall into a deep discharge state, which renders it incapable of holding any charge.
3. NiCd, NiMh and Lithium ion batteries will self-discharge during storage; We recommend using the battery at least once every two to three weeks. The above will greatly protect your battery and extend its life.
About this item
4 Pack | Brand New | Lithium Battery| 19.2Volts | Capacity:6000 mAh/6.0Ah ( Note: this battery may not fit in chargers for the NiCd batteries it is replacing, a Replacement for craftsman lithium charger is needed) .

100% Compatible with craftsman c3 19.2v max system of tools 11375, 11376,1323903, 130211004, 130279005, 11375, 11376, 110451323903, 315.PP2010, PP2011, 315.PP2025, PP2030 .

Four LED Indicator Light, Allows Users to Conveniently Monitor Charge Levels. keeping you aware of when you need to recharge .No memory effect. 20% lighter weight reduces user fatigue.6000mAh extended lithium-ion batteries have 6x runtime longer than NI-MH batteries .

Built-in Protection against overcharging, over discharge, over current, provides short circuit protection and steady voltage circuit, all of these lengthen battery life.

You don't have to worry about any quality issues. If you have any questions, please contact us and we will solve it for you immediately, so please feel free to purchase.
Products with electrical plugs are designed for use in the US. Outlets and voltage differ internationally and this product may require an adapter or converter for use in your destination. Please check compatibility before purchasing.