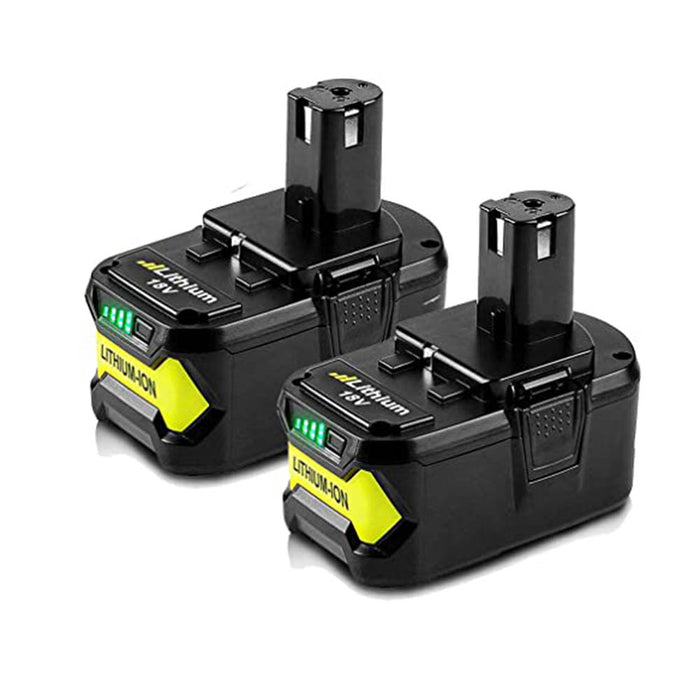 For Ryobi 18V Battery 7.0Ah Replacement | P108 Batteries 2 Pack
Save

£21.00
Save

£21.00
Original price
£80.99
-
Original price
£80.99
Replacement Part :

For RYOBI BPL-1815, BPL-1820G, BPL18151, BPL1820, P102, P103 P104, P105, P106, P107, P108

Compatible With: 

For RYOBI 18 Volt Cordless Drill Power Tool :

BID-1801M, BID-180L, BID1821, BIW180, CAD-180L, CAG-180M, CAP-1801M CCC-1801M,CCC-180L,

CCD-1801,CCG-1801M,CCG-180L,CCS-1801/DM, CCS-1801/LM,CCS-1801D,CCS-1801LM,CCW-180L,

CDA-18021B, CDA1802, CDA18021B,CDA18022B, CDA1802M,CDC-181M,

CDI-1802, CDI-1802M, CDI-1803, CDI-1803M, CID-1802M, CID-1803L,

CID-1803M, CID-182L, CID-183L, CFA-180M, CFP-180FM, CFP-180S, CFP-180SM,CHD-1801M, CHI-1802M, CHP-1802M,

CHV-180L,CHV-18WDM,CJS-180L, CJS-180LM, CJSP-1801QEOM, CJSP-180QEO, OBL-1801, OCS-1840, OGS-1820,

OHT-1850, OLT-1830, OPS-1820, ORS-1801, OWD-1801M

P200, P2000, P2002, P201, P203, P204, P206, P2060, P208B, P210, P2100, P2102, P2105, P211, P220,

P221, P230, P234G, P236, P240, P2400, P241, P246, P250, P2500, P2600, P2603, P271, P300, P301, P310,

P3200, P3300, P3310, P340, P400, P410, P420, P430, P500, P501, P506, P510, P514, P520, P521, P522,

P530, P540, P570, P600, P610, P631K, P650, P700, P701G, P703, P704, P710, P711, P715, P716, P730, P731, P740,

P741, P780, P813, P835

Please note:

Not compatible with ryobi 18v radio, lamp eg. Ryobi P742 Ryobi P746

Need a ryobi 18v lithium charger, eg. Ryobi P117 Ryobi P118
Product Details:
Condition:Brand NEW

Voltage:18V

Capacity:7000mAh

Color: Black

Battery Type: Lithium-ion

Package Includes:
2X 7000mAh For Ryobi Battery
1X User Manual
About this item

Factory price |Battery Type: Li-ion |Voltage: 18v |Capacity: 6000mAh each ( ship from United States and will arrive within 1 week. no shipping fees)

100% Compatible with Ryobi p102, p103, p104, p105, p107, p108, p109 and fit all Ryobi 18v system cordless tools.

Charge with 18v Dual-Chemistry chargers. Holds charge 4X longer*45% lighter weight reduces user fatigue.

Overdischarge, overload and short circuit protection is active.Power Indicator built in helps you finish your work more wisely.

You don't have to worry about any quality problems. Our products have passed strict quality inspection. Please feel free to buy. If you have any questions, please contact us.
Products with electrical plugs are designed for use in the US. Outlets and voltage differ internationally and this product may require an adapter or converter for use in your destination. Please check compatibility before purchasing.