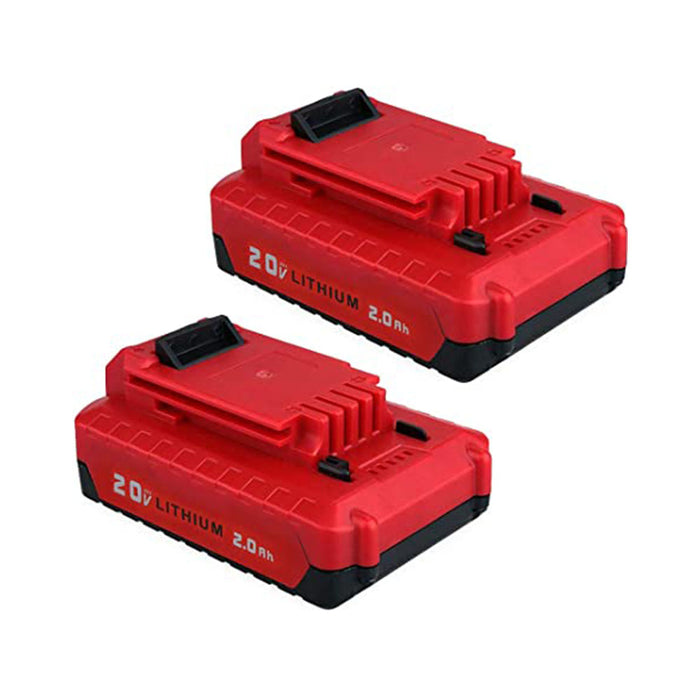 2 Packs 2.0Ah 20V Lithium-ion PCC680L for Porter Cable 20 Volt Battery for Porter Cable PCC685L PCC682L PCC685LP PCC600 PCC640 Batteries
Sold out
Original price
£430.99
-
Original price
£430.99
Product Description
Directly from the manufacturer. Factory price.

We offer a better replacement for OEM Original Battery at half the price.

Compatible with Battery: for 20V Porter Cable battery

PCC685L, PCC685LP, PCC681L, PCC680L, PCC682L, PCC680LP, PCC600, PCC640

Compatible with Cordless Power Tools Model:

For porter cable 20v max tools, porter cable 20v lithium drill, porter cable 20v oscillating

tool, porter cable 20v bare tool

For porter cable 20v blower, porter cable 20v flashlight, porter cable 20v cordless tools,

porter cable 20v drill driver, porter cable 20v nail gun

PCC700, PCC640, PCC601, PCCK602L2, PCCK604L2, PCC790LA, PCC670B, PCC700B, PCC650B,

PCC660B, PCCK617L6, PCC772B, PCC710B

PCCK616L4, PCCK600LB, PCC641, PCCK640LB, PCC661B, PCCK600LBR, PCC620LB, PCC771B,

PCC620LBR, PCC671B, PCCK614L4, PCCK604LA

PCC620B, PCCK617L6R, PCCK619L8, PCCK605L2R, PCC650BR, PCCK602L2R, PCCK612L2R,

PCC640B, PCC791B, PCCK612L2, PCC601LA, PCC670BR

PCC600LB, PCL120DDC-2, PCC601LBR, PCC606LAR, PCCK604L2R, PCC685L, PCCK603L2,

PCCK615L4R, PCCK640LBR etc.

Package Includes:

2 * 20V 2.0Ah Cordless Power Tools lithium Battery for Porter-Cable 20V Tools

Battery Maintance:

Batteries should be discharged before each charging. And it's best to make the battery fully

charged without interrupting ; If you store a battery when it's fully discharged, it

could fall into a deep discharge state, which renders it incapable of holding any

charge ; NiCd, NiMh and Lithium ion batteries will self-discharge during storage; We

recommend using the battery at least once every two to three weeks. The above

will greatly protect your battery and extend its life.
About this item
2 Pack|Voltage: 20V | Capacity: 2000mAh/2.0Ah | Type:lithium ion.

Top A grade battery cells,can be charged freely without memory effect,built-in integrated microchip prevents overcharging and other malfunction to prolong battery life

100% Replacement battery for Porter Cable PCC685L, PCC685LP, PCC680L, PCC682L,PCCK602L2 PCC600 PCC640, Fully Compatible with all Porter-Cable 20V Max power tools.

Products are CE,FCC and ROHS certified, tested by manufacturer to match OEM products,backup tool battery for you to finis work efficiently.

You don't have to worry about any quality problems, our products have passed strict quality inspection, please feel free to buy, if you have any questions, you can contact us.
Products with electrical plugs are designed for use in the US. Outlets and voltage differ internationally and this product may require an adapter or converter for use in your destination. Please check compatibility before purchasing.