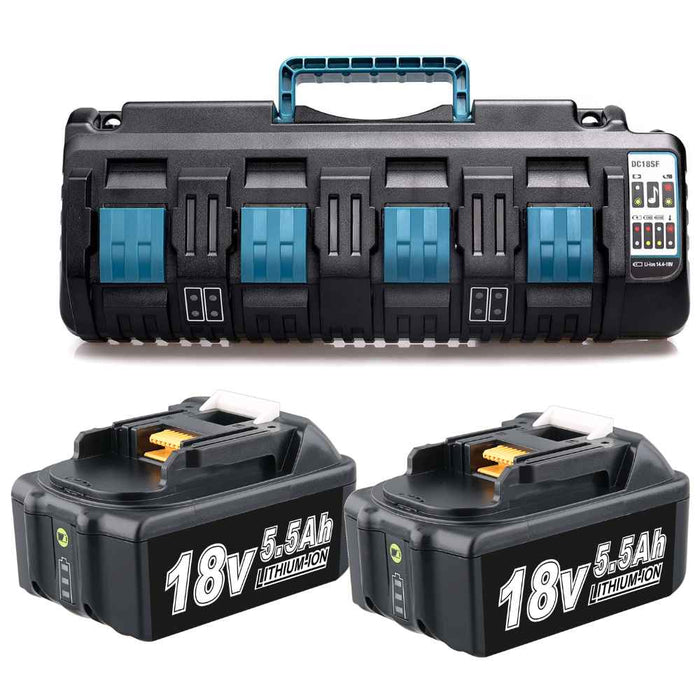 2 Pack For 18V 5.5Ah Makita BL1860B Battery Replacement & DC18SF FOR MAKITA 14.4V-18V
Save

£0.00
Save

£-111.99
Original price
£111.99
-
Original price
£111.99
Package includes
2 × 5.5AH BL1860B for Makita 18V Batterie
1 × DC18SF Battery Charger for Makita 18V Batterie

CHARGER
The 4-port 18V lithium-ion charger offers several advantages to cordless tool users. It's compact in size, ideal for use on construction sites or in stores, and can accommodate up to four 18V lithium-ion batteries at a time for greater efficiency and reduced downtime.

Specification:
Input voltage: 100 V ~ 240 V AC, 50-60 Hz, 80-320 W.
Output voltage: 14.4V ~ 18V
Battery type: lithium-ion
Mains plug: British regulations

Compatible with the following devices:
Makita 14.4V ~ 18V Lithium Battery Charger :
-----DC18SF DC18RC DC18RD DC18RA
Makita 14.4 V lithium battery:
-----BL1415, BL1440, BL1430, BL1450, BL1460, DA340DRF, BDF343, 194065-3, 194066-1
Makita 18V lithium battery:
-----BL1820, BL1830, BL1830B, BL1840, BL1840B, BL1850, BL1850B, BL1860, BL1860B, BL1815, BL1825, BL1835, Bl1845, LXT-400, 194205-3, 194204-5

Storage Method:
Keep the charger away from heat and metal accessories.
Please do not leave the battery in the charger during storage.
Do not store in damp and direct sunlight.
BATTERY
Item Specifications:
1. Compatible Brand: For Makita
2. Rated voltage: 18V
3. Nominal capacity: 5.5 Ah
4. Type: Li-Ion
5. Warranty: 1 year
6. Package: carton
7. Brand: Vanon

Replacement PN:
For Makita BL1860, BL1850, BL1840, BL1830, BL1835, BL1820, BL1815, BL1845, 194204-5, 196399-0, 196673-6, LXT-400

Compatible with (Please use Ctrl + F to select what you want)
for Makita BH series:
BHP451 BHP454 BHP452 BHP452SHE BHP454RFE BHP451SFE BHR202 BHR240 BHR240Z BHR241 BHR241Z BHR202RFE BHP451RFE BHP453 BHP452Z BHP454Z BHR202Z

for Makita BD series:
BDF451 BDF451Z BDF452RFE BDA350 BDF452SHE BDF454RFE BDF452Z BDF451RFE

for Makita BT series:
BTD140 BTD141 BTDW251Z BTD140SFE BTD140Z BTD141Z BTD144Z BTD144 BTW251 BTP140 BTL063 BTL061 BTL063Z BTL061Z BTD140RFE BTD140Z BTD142SHE BTD145RFE Btw251RFZ BTD145RFE BTW251RFEZ BTD45

for Makita BS series:
BSS501 BSS501Z BSS611X BSS611Z BSS610 BSS610Z BSS610SFE BSS610X2 BSS610RF

for Makita BJ series:
BJR181 BJR181Z BJV180 BJV180Z BJS130 BJR181RF BJV180RF BJR181X BJR181X1 BJR182 BJR182X BJR182Z BJV180Z

for Makita BF series:
BFS450 BFS450RFE BFS450Z BFR750L BFR750Z BFR750 BFR750Z BFR450RFE BFR550 BFR550L BFR550Z