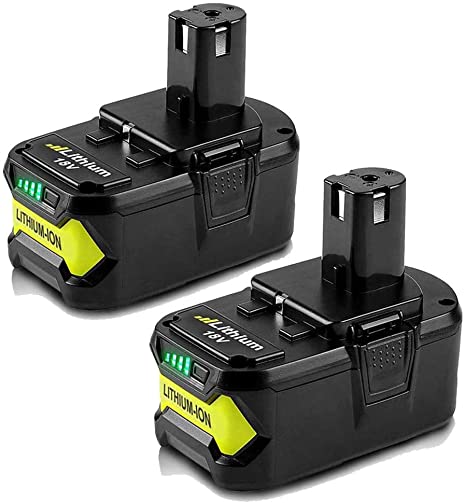 For Ryobi 18V Battery 5.5Ah Replacement Battery | P108 2 Pack batteries
Save

£6.00
Save

£6.00
Original price
£70.99
-
Original price
£70.99
Replacement Part : For RYOBI BPL-1815, BPL-1820G, BPL18151, BPL1820, P102, P103 P104, P105, P106, P107, P108
Compatible With:
For RYOBI 18 Volt Cordless Drill Power Tool : BID-1801M, BID-180L, BID1821, BIW180, CAD-180L, CAG-180M, CAP-1801M CCC-1801M,CCC-180L, CCD-1801,CCG-1801M,CCG-180L,CCS-1801/DM, CCS-1801/LM,CCS-1801D,CCS-1801LM,CCW-180L, CDA-18021B, CDA1802, CDA18021B,CDA18022B, CDA1802M,CDC-181M, CDI-1802, CDI-1802M, CDI-1803, CDI-1803M, CID-1802M, CID-1803L, CID-1803M, CID-182L, CID-183L, CFA-180M, CFP-180FM, CFP-180S, CFP-180SM,CHD-1801M, CHI-1802M, CHP-1802M, CHV-180L,CHV-18WDM,CJS-180L, CJS-180LM, CJSP-1801QEOM, CJSP-180QEO, OBL-1801, OCS-1840, OGS-1820, OHT-1850, OLT-1830, OPS-1820, ORS-1801, OWD-1801M P200, P2000, P2002, P201, P203, P204, P206, P2060, P208B, P210, P2100, P2102, P2105, P211, P220, P221, P230, P234G, P236, P240, P2400, P241, P246, P250, P2500, P2600, P2603, P271, P300, P301, P310, P3200, P3300, P3310, P340, P400, P410, P420, P430, P500, P501, P506, P510, P514, P520, P521, P522, P530, P540, P570, P600, P610, P631K, P650, P700, P701G, P703, P704, P710, P711, P715, P716, P730, P731, P740, P741, P780, P813, P835
Please note:
 Not compatible with ryobi 18v radio, lamp eg. Ryobi P742 Ryobi P746 Need a ryobi 18v lithium charger, eg. Ryobi P117 Ryobi P118
About this item
【With Great Power Comes Great Amenity】 Capacity: 5.5Ah | Lithium ion | Pack:2 Pack |Voltage:18 volt|Rechargeable | High quality battery cells.The upgraded capacity of 5500mAh offers a long lasting performance and durability for maximum productivity and minimum downtime. This replacement bateria for Ryobi 18v tools battery can be charged by your original charger whenever needed without any loss of capacity.No memory effect.

【Spare is Care】 Handy people always get a backup and get it at a reasonable price.VINIDA baterias work like a charm just as good as the original ones and they are much more affordable.You'll find yourself reaching for them any time maintaining the house.Make a way better deal~

【Compatibility】100% Compatible with Ryobi p102, p103, p104, p105, p107, p108, p109 and fits all Ryobi 18v system cordless tools.Led indicators provide immediate feedback on state of charge for efficiency.

【Safety】 Integrated microchip provides intelligent protection against potential damages caused by overcharge, overdischarge, overvoltage, overcurrent,short circuit for a longer battery life.This Ryobi Replacement battery is CE and ROHS certified and tested by manufacturer to match OEM products.

【VINIDA Service】All products have passed strict quality inspection.If batteries are damaged in transit or any quality problem occurs.Please feel free to contact us(click the "Ask a question" on our storefront or in "YOUR ORDER" options click the "contact seller").We promise 30 days money back and 1 year warranty guarantee.
Products with electrical plugs are designed for use in the US. Outlets and voltage differ internationally and this product may require an adapter or converter for use in your destination. Please check compatibility before purchasing.