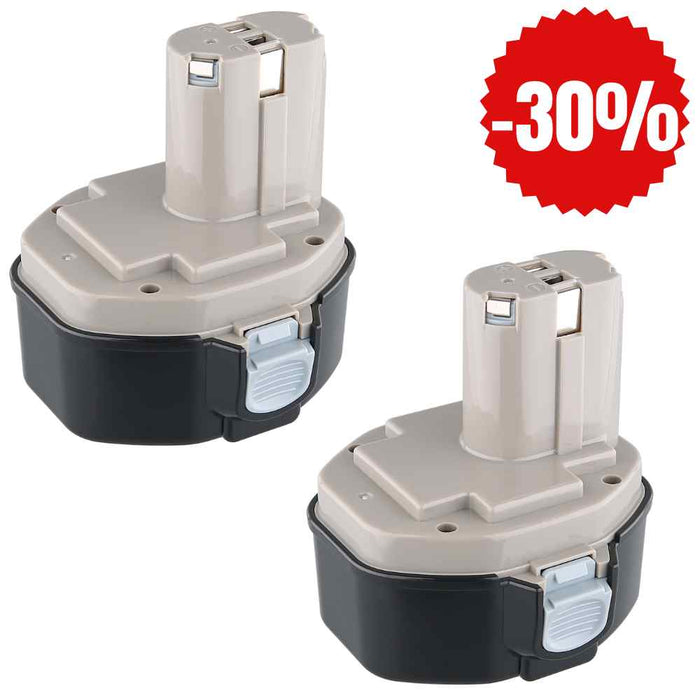 For Makita Battery 14.4V 4.8Ah Replacement | 1420 PA14 Ni-Mh Batteries 2 Pack
Save

£7.50
Save

£7.50
Original price
£25.99
-
Original price
£25.99
Battery Specifications:
Battery Type:Ni-Mh battery
Voltage: 14.4 Volt
Capacity: 4800mAh
Warranty: 1 Year Limited Warranty
Product Features1.
High Capacity and More Cycles - 4800mAh and more than 500 recharge cycles makes you no worry about the hard works, 
2.
100% compatible with the originals and may exceed the performance of OEM products.
3.
FCC, CE and RoHS Certified - Safety insurance that each battery should passed the test for incorrect voltage, short circuit, internal overheating, high temperature and high humidity, over charge or over discharge, ensure each item is in good condition.
4.
No Memory Effect - Can be charged or discharged as needed without loss of capacity, Ni-MH and Li-ion battery has no memory effect which is not like Ni-Cd battery, so it's no need to charge it to full or discharge full in use, much more convenient.
5.
Eco-Friendly Ni-MH Battery Cells Inside - Unlike Ni-Cd battery which contain Cd element that may pollute the environment, this Ni-MH rechargeable battery has no Pb, Hg, Cd, no pollution to surroundings and convenient to manage them when out of use.
Replace For:
PA14 1420 1422 1433 1434 1435 1435F 192600-1 
193985-8 192699 193157-5 193158-3
Fit for
: ( Please search with "
Ctrl+F
" )
Makita 1000 Series
1051D, 1051DWA, 1051DWAE, 1051DWD, 
1051DWDE, 1051DWF, 1051DWFE, 1051DZ
Makita 4000 Series
4033D, 4033DZ, 4332D, 4333D, 4333DWAE, 
4333DWD, 4333DWDE, 4333DZ
Makita 5000 Series
Makita 5094DWD, 5630DWD
Makita 6000 Series
6228D, 6228DW, 6228DWAE, 6228DWBE, 6228DWE, 6233D, 6233DWAE, 
6233DWBE, 6236DWBE, 6236DWDE, 6237D, 6237DWDE, 6280D, 6280DWAE, 
6281D, 6281DWAE, 6281DWAET2, 6281DWE, 6281DWPE, 6333D, 6333DA, 
6333DWA, 6333DWAE, 6333DWBE, 6336D, 6336DWA, 6336DWAE, 6336DWB, 
6336DWBE, 6336DWDE, 6337D, 6337DWAE, 6337DWDE, 6337DWDESP, 
6337DWFE, 6339DWDE, 6339DWFE, 6381D, 6381DWAE, 6932FD, 6932FDWDE, 
6933FD, 6934FD, 6934FDWDE, 6935FDWDE, 6935FDWDEX
Makita 8000 Series
8280D, 8280DWE, 8280DWAE, 8281DWAE, 8433D, 8281DWE, 
8433DWAE, 8433DWDE, 8433DWFE, 8434D, 8434DWFE
Makita JR Series
JR140D, JR140DWA, JR140DWAE, JR140DWB, JR140DWBE, JR140DWD
Makita ML Series
ML140(Flashlight) , ML141 (Flashlight), ML142 (Flashlight), ML143(Flashlight)
Makita UB Series
UB140D, UB140DWA, UB140DWB