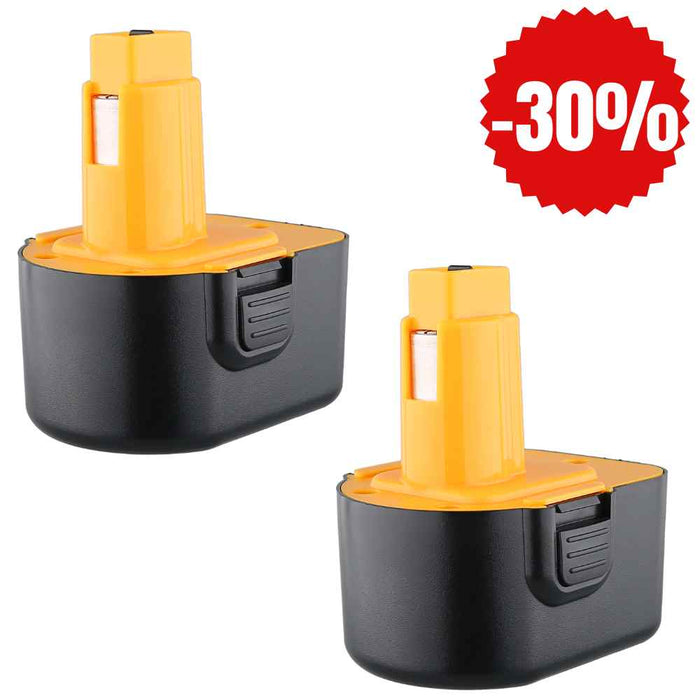 For Dewalt 12V Battery 4.8Ah Replacement | DE9501 Ni-MH Battery 2 Pack
Save

£13.50
Save

£13.50
Original price
£43.99
-
Original price
£43.99
We specialize in designing and manufacturing various batteries for power tools. All our batteries meet or exceed the OEM specifications.

High quality and providing excellent service are our constant pursuit and goals.

Replacement PN :Use "Ctrl + F" for a quickly search
For Dewalt DC9071 DW9072 DW9071 DE9074 DE9037 DE9071 DE9072 DE9075 DE9501 152250-27 397745-01

Compatible Models :
For DeWalt Cordless Drills and Drivers

DC727KA DC727KA-AR DC727KA-B2 DC727VA DC740K-2 DC740KA DC742KA DC742VA DC756KA DC756KB DC940KA DC945KB DC980KA DC980KB DC981KA DC981KB DW907K-2 DW907K2H DW907Z DW912 DW924K2AR DW924K2B2 DW924K2B3 DW924K2BR DW924K-B2 DW924K-B3 DW927K2 DW927K-2 DW927KV-2 DW953 DW953K DW953K-2 DW953KF2 DW972 DW953KS-2 DW953KV-2 DW953RFK2 DW965 DW965K DW965K-2 DW968K-2 DW970 DW971K-2 DW972B DW972K DW972K-2 DW972KQ-2 DW972KS-2 DW972RLK2 DW974K DW974K-2 DW975B DW974KQ DW975K DW976K DW977B DW977K DW980 DW980K-2 DW981 DW981KD-2 DW981KQ

For DeWalt Cordless Trim Saws: DW930 DW930K
For DeWalt Cordless Impact Wrench: DW051K DW051K-2 DW052K
DW052K-2 DW052K2H DW052Z DW053K DW053K-2 DW053K2H
For Other DeWalt Models: 2802K 2812B 2812K 2832K
2852B 2861K-2 2872B 2872K-2 2872KQ 2898B 2898K DCDK12

For DeWalt Cordless Shears: DW940 DW940K DW940K-2
For Dewalt Cordless Nailers and Staplers: DC612KA DC614KA
For DeWalt Adhesive Dispensers / Caulking Guns: DC542 DC542K
For DeWalt Cordless Flashlights: DC528 DC540 DC540K DW904 DW915 DW917
For DeWalt Cordless Screwdrivers : DW979 DW979K DW979K-2 DW979K2-BR

Package include:
2 x 12V 4800mAh Ni-MH Replacement Battery for Dewalt 12V Tools

Item specifics:
1.Compatible Brand: For Dewalt
2.Model Number: DC9071
3.Nominal Voltage: 12V
4.Nominal Capacity: 4.8Ah
5.Type: Ni-Mh
6.Condition: Replacement Battery, Brand New
7.Warranty: 1 Year Limited Warranty

Features:
1.Intelligent program protection prevents from overcharge
2.High-quality replacement battery
3.Compatibility with the original
4.Lower Price than Original OEM Battery
5.No memory effect.

Note:
1.The battery must be fully charged before first use.
2.The battery need to be stored in cool and dry place.
3.Do not separation, extrusion and impact.
4.Do not put the battery into water or fire.
5.Keep away from children.